How To Play
1. Write your blog post (travel inspired) and place the image to the left in your post. Make sure to link the post back to this post.
2. Add your link up below
3. Share, Share, Share on Social Media
Hawaii
Donald and I on the northern cliffs of Oahu.
My husband, Donald and I traveled to Hawaii during Spring Break, 2013. It remains one of our most memorable trips!
I want to share some of my favorite experiences and then some tips!
We were fortunate because we have a good friend who lives in Hawaii. We decided to stay with him for a few days in oder to experience the "non-touristy" side, and then to move into the Hilton on Waikiki for a few days to become tourists.
Let's talk FOOD!
Korean BBQ
I never realized what an Asian influence Hawaii had, but it was apparent once we arrived!
Korean BBQ
Some of our favorite meals included Korean BBQ and home made Ramen. This is not to be confused with the Ramen Noodles that we all lived on in college.
This Ramen is TO.DIE.FOR.
I have even looked up some places here in Charlotte to #getmyRamenon at!
It's become one of my favorite winter meals!
Authentic Ramen
Another MUST HAVE when you visit Hawaii is shave ice. (That's right, shave not shaved, it's what they call it in Hawaii.)
Now, if we hadn't been traveling with our local friend, then I probably wouldn't have been brave enough to try beans in my shaved ice. I mean that does sound crazy, right? Well, let me tell you,
JUST.DO.IT.
It's a creamy sweet bean paste, and is sooo delicious! Just trust me! The flavor I tried was a combination of Lychee and Li Hing Mui.
I
mean why try normal flavors?
One of the most famous places on Oahu is Matsumoto's Shave Ice, however the line there is normally super long, so we tried a place near the North Shore. It was still delicious!
While we were on the North Shore we also tried out some food trucks.
I am not a fan of seafood, but my husband went nuts over these shrimp!
The Sights
One word.
Sunsets
They were incredible EVERY night!
My best friend for the day.
On our way to the North Shore, we stopped by Turtle Beach. I am an AVID animal lover and I
lost my mind
screamed when I saw turtles coming ashore! It was mesmerizing! They were enormous and prestine. I could have stayed and watched them all day. As we sat on the beach, we could see them surfing in the waves. Turtle Beach is a MUST do on your list!
We also had the privilege of visiting Pearl Harbor.
It's free to go to the monument, but the tickets are given out quickly, so I recommend going in the morning to ensure your chances of getting to visit it.
It's a very somber visit, so have your tissues handy!
Adventures
While we were taking the "non-touristy" tour, our friend took us to a waterfall that usually only locals hang out at.
After we completed the hike, and I almost died three times I could understand why visitors choose to see other waterfalls.
It was a really amazing place once we arrived though. The locals were so kind to us, and even helped us climb to the top and jump off! #scary
My favorite adventure involved snorkleing! We went to Hanauma Bay and had the time of our lives!
Hanauma Bay
The coral itself was amazing to explore. Once we started seeing tropical fish it was over-the-top! We even saw another turtle swimming around. It was just magical.
If you plan on visiting Hanauma Bay, be aware you have to watch a video and sign a waiver before being allowed down to the beach. We waited in a line approx. 30 minutes to watch the video.
Patience is a virtue.
Right?
Since I am an avid animal lover, we thought another amazing adventure would be to take a Catamaran out in the ocean to see if we could spy any whales!
We were SO lucky to follow an entire pod for more than an hour! I can't even explain how cool this was!
If you are not afraid of heights, feel free to try our next adventure; Parasailing!
Talk about amazing view of Honolulu!
Funny note: We were the only people who spoke english on our boat. The guides made us be the guinea pigs and said that the others would just follow along!
Glad we didn't mess up!
The last adventure is obviously a must do when you travel to Hawaii: Luau!
We attended a Luau on top of the Hilton Waikiki's roof. It was an amazing show, however I am not sure how authentic it was. In the future I would like to attend a more low-key event with some locals.
We were so sad when out trip came to an end. I wanted to throw a fit and hope that Donald wouldn't make me leave.
Sad Times
That didn't work.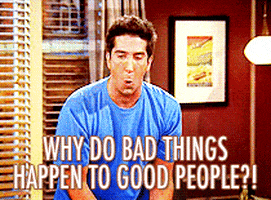 Tips
Book your flights out at least 6 months in advance. The dates we wanted varied in prices from $750-$1200.
Traveling anywhere during a holiday season is more expensive. We wanted to revisit Hawaii, and it was going to cost us three times as much to go in December.
We stayed at the Hilton Hawaiian Village in Waikiki. I HIGHLY recommend this resort. Check it out here . We had a corner room, overlooking the pacific. However, if you are trying to be budget friendly, they also had great rooms at much lower prices.
U.N.P.L.U.G.
SERIOUSLY
Let me know if you have any questions!